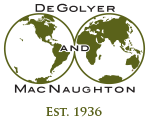 Worldwide Petroleum Consulting
2020 Vision-How We See Our Greatest Challenges
The new decade starts soon, and the users of the TWENTY-FIRST CENTURY PETROLEUM STATISTICSTM are a reflection of the petroleum industry in outlook. The users are from all parts of the business and share an interest in where the exploration, production, and sale of petroleum is headed. In fact, all of you have "2020 vision"!
As such, we are interested in what you think about the greatest challenges you or your company may face in 2020 and beyond. Simply answer the following questions and we will compile the answers and report back what has been said. This survey is anonymous and your participation will not result in any use of your information other than the compilation of answers in this poll.
The compiled results will be published on this site early January.