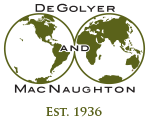 Worldwide Petroleum Consulting

A Message from DeGolyer and MacNaughton
June 11, 2020
We hope that you and your families are all healthy and staying safe. This letter has been written to update you on the effect that the coronavirus (COVID-19) has had on D&M and its services. While COVID-19 required significant adjustments, thanks to the resourcefulness of our IT department and the continued hard work of our employees, we are proud to report that we have successfully met all the challenges that COVID-19 has presented. Additionally, we have developed many innovative skills, tools, and solutions through this process that will continue to improve our productivity and our ability to assist clients.
Today, June 11, 2020, marks 90 days from our transition from a traditional office environment to a complete work-from-home model. Not only did we navigate this transition without any negative impact to communications or deliverables, we continued to successfully meet client deadlines throughout the pandemic. Locally mandated "Stay at Home" and "Shelter in Place" orders were lifted in mid-May for our Dallas and Houston offices; however, in the interest of employee safety, staff in these offices were allowed to continue working from home. Beginning June 1, Dallas and Houston employees began returning to the office in alternating two-week shifts to allow for proper sanitary and social distancing measures. Plans for reopening our Moscow office are currently in discussion.
All of our offices are observing safety precautions in compliance with the guidelines recommended by local and state governments and by the CDC. Additionally, we have established internal procedures and protocols to further ensure the health of our employees. Throughout this crisis, our top priority has always been to continue providing exceptional services to our clients while maintaining the health and safety of our employees. The entire firm is working hard to ensure that these goals are met, whether from the office or from home.
D&M is strong, and we will continue to serve our clients with knowledge, integrity, and service, as we have since our doors first opened in 1936. As we all navigate through the months ahead, please continue to keep yourself and your families healthy and safe.
Previous
|
Next