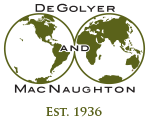 Worldwide Petroleum Consulting

A Message from DeGolyer and MacNaughton
March 26, 2020
We hope you and your families are all healthy and safe. This letter is written to address any concerns you may have regarding the coronavirus (COVID-19) and its impact on D&M and its services. We have been paying close attention to the spread of COVID-19 and its potential effects on D&M's business, employees and clients. A team has been meeting regularly to prepare and implement a plan for D&M should the outbreak continue to spread. We want to assure you that, because of this planning, we are confident that D&M is well equipped to handle any circumstances that may lie ahead. We would like to share with you the preparations and adjustments we have made.
D&M's top priority is providing exceptional services to our clients while maintaining the health and safety of our employees. Knowing that D&M's employees and their expertise are our greatest assets, at the beginning of March, we implemented the plan for all of our professional and support staff to work from home. The plan was initiated well before "Stay at Home" or "Shelter-in-Place" orders were issued by local governments. Through this plan, we were able to quickly equip every employee with the necessary tools to work safely from their home while continuing to provide uninterrupted service to our clients during these challenging times.
Additionally, new communication technology has been initiated company-wide. This technology has not only improved remote collaboration, but also ensures that client data and information always remain confidential. The capabilities of D&M's plans and adjustments have been successfully tested and used by all D&M employees worldwide for the last two weeks. Daily project meetings, both internal and with clients, have continued, and all projects are moving ahead on schedule. Moreover, all projects are expected to finish as scheduled with no delays.  The entire firm is working hard to ensure that we continue to deliver excellent service to our clients through this crisis.
D&M has faced many challenges since our founding in 1936, including a world war, but we have never once closed our doors. Now, thanks to the forethought and planning of D&M and its employees, our doors will remain "virtually" open during this global crisis as well. D&M is strong, and we will continue to serve our clients with knowledge, integrity and service as we always have. Please keep yourself and your families healthy and safe.
Previous
|
Next