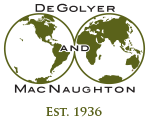 شركة استشارات البترول العالمية

Evgeniya S. Fomina
Evgeniya S. Fomina began her employment at DeGolyer and MacNaughton's Moscow office in 2008 as a reservoir engineer specializing in reserves estimation and oil and gas property evaluations. Before joining D&M, Fomina was a leading expert in field development and modeling at JCS Gazprom-Promgaz.
Fomina received a master's degree with distinction in reservoir engineering from the I.M. Gubkin State University of Oil and Gas. She is fluent in Russian and English.
Geographical Experience
Kazakhstan
Russia
Ukraine
Topical Areas of Expertise
Field performance analysis
Reserves estimation
Production forecasting
Waterflood analysis
Reservoir modeling
Gas deliverability modeling
Material-balance analysis
Major Projects
Fomina has conducted reserves estimations on more than 300 oil and gas fields situated in the Russian Federation, Kazakhstan, and Ukraine, including fields located in East Siberia, major Russian gas fields, offshore fields, and hard-to-recover reserves. She is the Moscow coordinator for the largest gas company in Russia. Additionally, she is responsible for the internal coordination of multidisciplinary teams and oversees the preparation of reserves reports under both SEC and PRMS guidelines for several oil and gas companies.