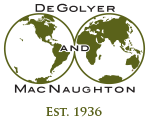 شركة استشارات البترول العالمية

Alexander Kutuzov
Alexander Kutuzov joined DeGolyer and MacNaughton's Moscow office in 2012 as a reservoir engineer specializing in reserves estimation and petroleum property evaluations. Prior to working for D&M, Kutuzov was the chief specialist and head of reservoir engineering monitoring at Rosneft's UfaNIPIneft scientific institute, specializing in reservoir simulation and material-balance analysis.
Kutuzov received a master's degree in petroleum engineering from Ufa State Petroleum Technical University in 2007. He was elected as a Vice President of D&M's Moscow office in 2019. He is a member of the Society of Petroleum Engineers (SPE) and the Society of Petroleum Evaluation Engineers (SPEE). Kutuzov is fluent in both Russian and English.
Geographical Experience
Azerbaijan
Kazakhstan
Russia
Ukraine
Uzbekistan
Topical Areas of Expertise
Reserves estimation
Economic evaluation
Gas deliverability modeling
Field development optimization
Reservoir performance analysis
Enhanced oil recovery
Waterflood analysis
Reservoir modeling
Material-balance analysis

Major Projects
Kutuzov has coordinated integrated evaluation projects for several oil and gas companies in Russia, including economic and technical evaluation of reserves projections, field development plan optimization, and field infrastructure development reconciliation.
Kutuzov has also participated in multidisciplinary teams performing reservoir studies to improve reservoir performance and recovery for companies in Russia and Kazakhstan.
Kutuzov is an instructor for the firm's SEC and PRMS reserves seminars specializing in reserves definitions and reservoir engineering practices.