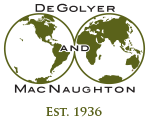 Worldwide Petroleum Consulting

DeGolyer and MacNaughton Releases 75th Edition of the TWENTY-FIRST CENTURY PETROLEUM STATISTICS
November 3, 2021
The 75th Edition of the TWENTY-FIRST CENTURY PETROLEUM STATISTICSTM is now exclusively available on the www.demac.com website.  Bonus material, such as historical data prior to 1960, is also available for viewing there.
The statistical report was initially prepared in 1945 by the office of the Director of Naval Petroleum and Oil Shale Reserves, Navy Department, Washington, D.C. The Director, Commodore W. G. Greenman, United States Navy, requested that DeGolyer and MacNaughton maintain the "handbook" on an annual basis, since demand indicated that there was a practical need for such information. We have been publishing the TWENTY-FIRST CENTURY PETROLEUM STATISTICSTM ever since as a ready reference for industry colleagues, clients, researchers, libraries, and students. 
In the publication of the TWENTY-FIRST CENTURY PETROLEUM STATISTICSTM, free use was made of information published by the American Petroleum Institute, Oil and Gas Journal, World Oil, the Energy Information Administration (EIA), and other public-domain sources from around the world. These sources are cited herein, and we greatly appreciate that these publications and organizations granted permission for the use of such data.  
Note that the 2021 Edition includes data reflective of information through the end of 2019, based on the most recent availability of the referenced data.
We hope this legacy of our founders is of practical use to those in and outside of the petroleum business.  We welcome your use of this valuable information with only a short registration entry on the site.  Go to "Reference Materials" on the band across the top of the website, click, and select the "Twenty-First Century Petroleum Statistics" line.
Previous
|
Next