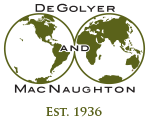 Worldwide Petroleum Consulting

D&M continues to expand its capabilities in the field of Environmental, Social, and Corporate Governance (ESG) support.
June 10, 2021
The D&M Greenhouse Gas specialists are providing services to our clients for compliance, social responsibility initiatives, and advanced business practices projects.  D&M intends to be a leader in this field by maximizing the synergies of GHG estimation/verification and petroleum reserves/resources estimation, as well as applying the well-known reputation of the firm and the unmatched expertise of its technical staff.  With several GHG projects underway, D&M is developing a vision for GHG services that will link to the future of transitional business models in the industry. More information on D&M's GHG services is available here.
Previous
|
Next