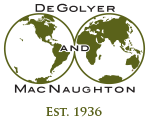 Worldwide Petroleum Consulting

D&M President Serves as the 2021 President of the Society of Petroleum Evaluation Engineers (SPEE)
November 3, 2021
Charles Boyette continues his long-term service to the industry by leading the international Society of Petroleum Evaluation Engineers (SPEE), the single worldwide professional organization dedicated the specialized field of petroleum evaluation.  Boyette is the 2021 President of SPEE and has served on the Board of Directors and various committees since joining SPEE earlier in his career.
As President of SPEE, Boyette chairs all board meetings, provides leadership in annual society meetings, provides monthly communication to members, maintains organization of various committees, manages chapter relationships, and represents the SPEE to other professional organizations and the general public.
As is customary, Boyette will fill a role as Past President in 2022, with its own requisite responsibilities.
Charles F. Boyette is President of DeGolyer and MacNaughton. He previously served as Executive Vice President of the firm and co-manager for the firm's Central Europe-Asia Division.  He joined D&M in 1982.  He graduated from Texas A&M University in 1979 with a bachelor's degree in civil engineering and earned a master's degree in business administration from the University of Texas at Dallas in 1991. Boyette is a member of the Society of Petroleum Engineers and he is a registered professional engineer in Texas.
Recognizing that petroleum evaluation engineering is a specialized field, the SPEE is dedicated to the promotion of professional growth of the membership and to the advancement of the profession of Petroleum Evaluation Engineering.  The professional activities of SPEE members are guided via by-laws that require the highest ethical standards. Principles of acceptable evaluation engineering practice address the relationships of members with the public, with employers, with clients, with other members, and with SPEE.
Previous
|
Next