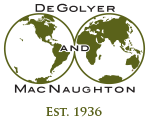 Worldwide Petroleum Consulting

Kirill N. Dmitriev
Kirill N. Dmitriev joined DeGolyer and MacNaughton's Moscow office in 2013, specializing in petroleum economics. Before joining D&M, he worked for the Moscow branch of ENEL as an expert in economic evaluation, planning and control for the ENEL Upstream and Gas Trading activities.
Dmitriev earned a bachelor's degree in 2008 and a master's degree in 2010 in applied mathematics and physics at the Moscow Institute of Physics and Technology. He was elected Vice President of the Moscow Branch office in 2019. In 2013, he earned a Ph.D. in economics from the Institute of System Analysis of Russian Academy of Sciences. He is fluent in Russian and English and a working level of Italian.
Geographical Experience
Russia
Kazakhstan
Ukraine
Azerbaijan
Uzbekistan
 Topical Areas of Expertise
Fair market analysis
Russian and FSU fiscal systems
Cash-flow analysis
Economic modeling
Russian reporting and regulatory guidelines
Production Sharing and service contracts
Major Projects
Dmitriev has prepared economic assessment of reserves for numerous properties throughout Russia and the FSU. He is an expert in Russian oil and gas production tax law and, through his extensive experience, a thorough understanding of the oil and gas laws and production sharing provisions throughout the FSU.
Dmitriev is an instructor for the firm's SEC and PRMS reserves seminars specializing in economic analysis, fiscal terms, and data quality assurance.