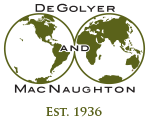 Worldwide Petroleum Consulting

Sissani Agounizera
Sissani Agounizera is technical studies coordinator of DeGolyer and MacNaughton's office in Algiers, Algeria. Prior to joining D&M in 2017, he worked for many years for companies such as SONATRACH and Repsol.
He graduated with a bachelor's degree in geophysics from the Algerian Petroleum School (IAP) in 1985, and he also holds an Executive MBA from Montreal University in Canada (2008).
Geographical Experience
Algeria
Australia
Brazil
Colombia
Indonesia
Libya
Morocco
Oman
Vietnam
Topical Areas of Expertise
Geophysical evaluation
Characterization of unconventional reservoirs
Petrophysics / Geomechanics
Major Projects
Agounizera started his career with SONATRACH in Algeria, beginning as a field operations geophysicist (seismic design, field QC…) before working as an exploration geophysicist focused on prospect and lead identification and maturation in different basins (from frontier to mature) and play-scale evaluations (conventional and unconventional projects). Later he was appointed Exploration Manager for the Eastern Algeria Province (Berkine / Illizi / Hassi Messaoud). In total, he worked for 27 years with SONATRACH.
After leaving SONATRACH, Agounizera worked for various companies as a senior exploration advisor in Middle East (Target Oil Finder, Muscat, Oman) and as consultant.
In 2013, he joined Repsol to work on unconventional projects, including Middle Magdalena Valley (Colombia), Parnaiba Basin (Brazil), the North Africa Illizi–Berkine Basins shale oil/gas (Algeria), and the basin study group (onshore Australia). Since June 2016, he has worked with the Exploration Quality Assurance team in charge of supervising worldwide exploration activity for Repsol, with the main focus on seismic interpretation and petrophysics, coordinating technical work on various assets, and new ventures in Europe, North Africa, and the Middle East.