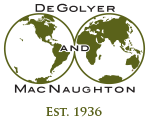 Worldwide Petroleum Consulting

Andrew Avalos
Andrew Avalos joined DeGolyer and MacNaughton in 2018 after working for several domestic energy companies and an international upstream consulting firm.
He earned his undergraduate degrees in business administration and finance and in physics from Southern Methodist University in 2006. He earned a master's degree in petroleum engineering from Texas A&M University in 2016. He is a member the Society of Petroleum Engineers, Dallas Section, and the CFA Institute Society. He is also a Professional Engineer Candidate and a CFA Level III Candidate.
Geographical Experience
Brazil
Canada
China
Colombia
Indonesia
Mexico
New Zealand
United States
Topical Areas of Expertise
Fair market valuations of assets and equity
Complex financial and oil and gas modeling
Advanced knowledge in Excel, Access, Word, PowerPoint, Aries, and PHDWin
Oil and gas reserves and economics estimates
Fiscal modeling, production sharing contracts, risk service contracts, and concession agreements
SEC, PRMS, and other systems of reserves reporting
Litigation support and expert witness for economic damages and forensic accounting
Evaluating well logs and cross sections to determine proved developed non-producing reserves
Developing long-range plans and cash flow projections for business units
Major Projects
For D&M, Avalos provides expertise for projects across Latin America and Asia.