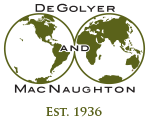 Worldwide Petroleum Consulting

Stanley "Scott" Birkhead
Stanley S. Birkhead joined DeGolyer and MacNaughton in 2020 as a petrophysicist, specializing in all stages of petrophysical and geologic integration and interpretation. Prior to joining D&M, Birkhead worked at Kerr McGee, Anadarko Petroleum, and Occidental Petroleum.
Birkhead received his bachelor's degree in geology in 2001 and his master's degree in geology in 2005, from Texas A&M University. He was on the leadership team for the Unconventional Resources Special Interest Group (SPWLA affiliated) for several years and has most recently been associated with the Petrophysical Interest Group (AAPG affiliated) as a petrophysical lecturer.
Geographical Experience
Algeria
Australia
Benin
Brazil
China
Colombia
Cote D'Ivoire
The Falkland Islands
Gabon
Ghana
Indonesia
Kenya
Liberia
Mauritania
Mozambique
Namibia
New Zealand
Newfoundland
Nigeria
Peru
Russian Federation
Senegal
Sierra Leonne
South Africa
The Gambia
Trinidad
Tunisia
United States
Topical Areas of Expertise
Full life cycle petrophysics
Log quality control
Field studies/geologic integration
Low contrast/low resistivity pay
Nuclear magnetic resonance
Core analysis planning/integration
Formation pressure interpretation
Clastic/carbonate/volcanics/
multimineral analysis
Uncertainty
Rock typing
Laminated sand/shales
Mentoring/training
Unconventional reservoirs

Major Projects
Birkhead's previous work covered a large variety of depositional environments and play types, including unconventional, tight sand, clastics, carbonates, and volcanics.
He was the exploration petrophysicist, and later the development petrophysicist, for Ghana during the West African exploration expansion, which led to work on high-profile exploration wells in Ivory Coast, Liberia, and Sierra Leone. These challenging reservoirs included freshwater, laminated sands, variable diagenesis, and perched systems.
Birkhead has co-developed models for several shale gas reservoirs, including the Haynesville, Marcellus, and Eagleford Shales and international work on the Frasnian Shale.
Birkhead was also responsible for the petrophysical work undertaken in Mozambique with the discovery of the world-class Prosperidade field and many exploration wells drilled in the region.