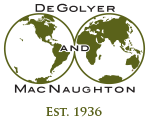 Worldwide Petroleum Consulting

Bryant W. Bradley
Bryant W. Bradley joined DeGolyer and MacNaughton in 2018. Since arriving at D&M, he has worked on various worldwide projects with a primary focus on seismic-based structural and stratigraphic modeling, the integrated field development of brownfields and greenfields, prospective resources estimation, and reserves and contingent resources evaluations. Prior to joining DeGolyer and MacNaughton, Bradley worked in various roles at Chevron, including as an asset development geologist for legacy carbonate fields in the Permian Basin, a deepwater exploration geologist for the Gulf of Mexico, and as an applied reservoir management geologist for producing brownfield assets in the San Joaquin Valley of California.
Bradley received a bachelor's degree in geology in 2011 from Washington and Lee University, and a master's degree in geology in 2013 from the University of Oklahoma, where he was a ConocoPhillips SPIRIT Scholar. Bradley is a member of the American Association of Petroleum Geologists, Dallas Geological Society, and Houston Geological Society.
Geographical Experience
Ghana
Gulf of Mexico
Iraq
Kazakhstan
Kuwait
Libya
North Sea
Russia
Trinidad and Tobago
Ukraine
United States (Onshore)
Uzbekistan
Topical Areas of Expertise
Subsurface mapping
Sequence stratigraphy
Seismic interpretation
Velocity modeling
Reservoir characterization
Reservoir modeling
Risk analysis
Prospective resources evaluations
Major Projects
Bradley has experience categorizing reserves and resources in accordance with the PRMS and the SEC, estimating reservoir volumes using deterministic and probabilistic methods, and quantifying geologic risk associated with undrilled prospects. He has evaluated reservoirs in all types of depositional environments and basins.
As a geologist at Chevron, Bradley integrated various types of geologic, geophysical, engineering, petrophysical, and production data into full-field reservoir models. His skills included subsurface mapping, seismic interpretation and PSDM velocity modeling, core description, reservoir modeling, and prospect identification and maturation.