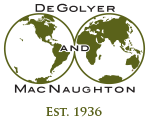 Worldwide Petroleum Consulting

Michael H. Bradley
Michael H. Bradley joined DeGolyer and MacNaughton in 2007 as an expert in deepwater stratigraphy and seismic interpretation. Prior to his association with D&M, from 2000 to 2006 he worked with ExxonMobil in its Exploration Company and Production Company on deepwater projects.
In 1996, Bradley received a bachelor's degree in geology from Texas A&M University, and in 2000 he was awarded a master's degree in geological sciences from the University of Texas at Austin. He is a member of the American Association of Petroleum Geologists and the Houston Geological Society.
Geographical Experience
Angola
Australia
Brazil
Colombia
Egypt
Ghana
Indonesia
Kuwait
Mozambique
Nigeria
Norway
Russia
Saudi Arabia
Vietnam

Topical Areas of Expertise
Prospective resources estimation and risk analysis
Deepwater stratigraphy
Reservoir modeling
Seismic interpretation

Major Projects
Bradley worked various projects at ExxonMobil including: Erha field development in deepwater Nigeria, team leader for Niger Delta Regional Exploration, production geologist for Gulf of Mexico shelf properties, Gulf of Mexico deepwater exploration geologist, and drilling operations geologist for South Texas. Skills and duties included: seismic interpretation, sequence stratigraphic evaluation, core description, geologic modeling, play and prospect analysis, wellbore planning, drilling operations, reservoir surveillance, and reserves quantification.
Since joining D&M, Bradley has worked on projects worldwide including: prospective resources estimation of exploration portfolios, reserves and contingent resources evaluations, integrated field development studies, and seismic and geologic reservoir characterization of new and mature fields.
Bradley has been a key investigator in the long-term planning review for North Kuwait assets. In this project, all discovered and producing reservoirs in North Kuwait were examined to identify the maximum upside potential for the hydrocarbons initially in place and their estimated ultimate recoverable resources. This study also examined the undiscovered potential in North Kuwait.