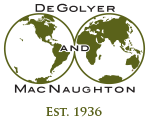 Worldwide Petroleum Consulting

Jose A. Bucci
Jose A. Bucci joined DeGolyer and MacNaughton in 2019, specializing in reservoir simulation. He works as a senior engineer on integrated field development studies, performing engineering analysis using classic reservoir engineering methods and reservoir simulation to evaluate oil and gas field performance.
Bucci received a bachelor's degree in petroleum engineering in 2007 from the Universidad Central de Venezuela in Caracas, Venezuela. In 2010, he completed a graduate diploma in a reservoir engineering program from the French Institute of Petroleum (IFP Training) in Caracas, Venezuela. He is a member of the Society of Petroleum Engineers. He became a Vice President of D&M in 2021.
Geographical Experience
Mexico
United Arab Emirates
Venezuela
Topical Areas of Expertise
Field development studies
EOS modeling
Reserves evaluation
Reservoir simulation (VIP/Nexus, Eclipse)

Major Projects
Bucci is proficient in utilizing modeling tools such as PETREL, E100&300, NEXUS, CMG-GEM, CMG-IMEX, TNAV, and VIP to perform history-matching studies and evaluate future development strategies for oil and gas fields. Bucci possesses a wide variety of skills in reservoir engineering, such as production data, PVT/EOS and SCAL analysis, waterflood evaluation (IOR), miscible gas injection (EOR), WAG, ASP EOR, and stochastic analysis.
He has comprehensive experience in Venezuela's Orinoco Oil Belt, one of the world's largest oil reserves. He developed multiple simulation models in CMG-IMEX and STARS for extra-heavy oil reservoirs (black oil and foamy oil) and performed history matches for more than 300 horizontal wells by integrating geological and petrophysical information with well behavior observed in reservoir monitoring. He also developed phenomenological models and dynamic conceptual models of formation water by integrating geochemistry and reservoir performance analyses to optimize field water production, estimate oil recovery factors, and quantify the performance of new drilling patterns in different geological schemes.