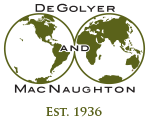 Worldwide Petroleum Consulting

Kirill Budkin
Kirill Budkin joined DeGolyer and MacNaughton's Moscow office as a geologist in 2019. His main area of expertise is reserves evaluation based on geologic, geophysical, petrophysical, and field engineering data. Prior to joining D&M, he acquired broad experience in geological synthesis, geomodeling, well planning and follow-up, reservoir management, and field production optimization while working for major Russian operating companies for 15 years. Budkin is passionate about automatization and digitalization.
Budkin graduated from Gubkin State University of Oil and Gas with a degree in reservoir characterization in 2006. He has several publications on the complex reservoir characterization of West Siberian fields. His native language is Russian and he is proficient in English.
Geographical Experience
Azerbaijan
Iran
Russia
Ukraine
Uzbekistan
Topical Areas of Expertise
Stratigraphic and structural analysis
Lithology and facies analysis of unconventional reservoirs
Seismic and petrophysical analysis
Regional and local well correlations
Reserves evaluation and classification
Reservoir characterization
Volumetric calculation
Major Projects
Budkin has completed geologic evaluations of oil and gas reserves in accordance with the PRMS and SEC for a number of fields located in Russia and Commonwealth of Independent States.