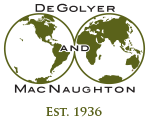 Worldwide Petroleum Consulting

Logan Byrne
Logan Byrne joined DeGolyer and MacNaughton in 2018 as a petroleum engineer in the Reservoir Studies Division. Prior to joining D&M, Byrne interned at EOG Resources and Apache Corporation.
Byrne graduated with a bachelor's degree in petroleum engineering from the University of Texas at Austin in 2018. He is a member of the Society of Petroleum Engineers.
Geographical Experience
Algeria
Libya
Russia
United States

Topical Areas of Expertise
Reservoir simulation
Field development planning
Fluid PVT modeling
Formation pressure test analysis
Pressure-transient analysis
Unconventional resources
Gas-lift optimization
Waterflooding
Major Projects
Byrne has performed multiple reservoir simulation studies, including history matching and forecasting for various fields and reservoir types in Algeria, Libya, and Russia. Byrne has also contributed to integrated studies involving the development planning of newly discovered fields in Algeria. He has conducted in-depth analyses of various sources of test data, including formation pressure test data, production test data, core sample data, and fluid PVT sample data. Additionally, he has experience in the development and optimization of gas-lift operations in the Delaware Basin, in the development of waterflood operations in the Midland Basin, and in production and operations in the Eagle Ford Shale.