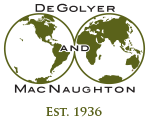 Worldwide Petroleum Consulting

Ivan A. Fadeev
Ivan A. Fadeev joined DeGoyler and MacNaughton's Moscow office in 2018 as a geologist specializing in petroleum studies and reserves evaluations based on geologic, geophysical, petrophysical, and field engineering data. Before joining D&M, he was engineer in the 3–D geology modeling laboratory of Gubkin Russian State oil and gas University.
Fadeev graduated cum laude from Gubkin State University. He received a bachelor's degree in geology and oil and gas exploration in 2012 and a master's degree in oil and gas business in 2014. Fadeev is the author of six publications on the geology and exploration of the Pliocene stratum of the Absheron-Pribalkhan system of uplifts in Turkmenistan. He is fluent in Russian and English.
Geographical Experience
 Topical Areas of Expertise
Stratigraphic and structural analysis
Seismic and petrophysical analysis
Lithology and facies analysis
Regional and local well correlations
Reserves evaluation and classification
2–D and 3–D geomodeling
Geological studies
Reservoir characterization
Volumetric calculations
Reserves estimation
Major Projects
Fadeev has completed the geologic evaluation of oil and gas reserves for a number of fields in the Russian Federation. He has participated in multi-disciplinary teams for the evaluation of reserves under both SEC and PRMS guidelines.