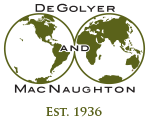 Worldwide Petroleum Consulting

Steven M. Flagg
Steven M. Flagg joined DeGolyer and MacNaughton in 2011 as an associate analyst. Prior to joining D&M as an associate analyst, he served as a cavalry officer in the United States Army with the 1st Cavalry Division.
Flagg graduated with honors from Syracuse University in 2007 with a bachelor's degree in inorganic chemistry. He was named a Vice President of D&M in 2019.
Geographical Experience
Algeria
Australia
Brazil
Canada
Colombia
Egypt
Ghana
Guyana
Hungary
Indonesia
Iraq
Italy
Kazakhstan
Kuwait
Libya
Mexico
Namibia
Nigeria
Norway
Peru
Republic of Congo
Russia
Tanzania
Thailand
Trinidad & Tobago
Turkey
Uganda
Ukraine
United Arab Emirates
United Kingdom
United States
Tropical Areas of Expertise
Evaluation of prospective resources
Commercialization
Floating liquid natural gas (FLNG)
Greenhouse gas (GHG) evaluation
ISO 14064 GHG reporting
45Q tax credit evaluation
Major Projects
Flagg's prospective resources evaluation experience is focused on potential reservoir performance and development concept planning. Using D&M's proprietary, simulation-based software, Flagg has simulated potential reservoir performance and generated potential production profiles and recovery factor ranges predicted on actual rock and fluid physics.
His capabilities also extend to the creation of individualized development concepts, based on client and geographic needs, to ensure a consistent platform for concept screening, optimization, and cost control. Subsequent cost estimations and monthly cash flows produced for these development concepts support feasibility studies and final concept selection for new oil and gas field development.
Some of his most recent projects involved leveraging his chemistry background to assist clients in Australia, Europe, and North America in creating internal GHG guidelines and requirements in accordance with applicable regulatory environments and in estimating direct and indirect emissions based on the United Nations Intergovernmental Panel on Climate Change (IPCC) or ISO 14064 standards. Flagg has further assisted clients within the United States with maximizing their 45Q tax credits due to enhanced oil recovery operations or permanent storage.