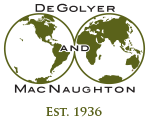 Worldwide Petroleum Consulting

Jorge R. Garcia
Jorge R. Garcia joined DeGolyer and MacNaughton in 2019 as an engineer in the North America Division. Prior to joining D&M, Garcia worked as a reservoir engineer at PEMEX.
Garcia earned a bachelor's degree in petroleum engineering from Universidad Nacional Autonoma de Mexico in 2008. In 2015, Garcia earned his master's degree in petroleum engineering from Texas A&M University. He is currently working on his doctorate at Texas A&M University. Garcia is a member of the Society of Petroleum Engineers. He is fluent in Spanish and English. 
Geographical Experience
Topical Areas of Expertise
Fluid properties
Unconventional resources
Numerical simulation
Material-balance calculations
Naturally fractured reservoirs
Statistical learning
Major Projects
Garcia focuses on data analytics and developing predictive tools for D&M. He has participated in works involving well performance analysis in unconventional resources using analytical and numerical modeling and diagnostic techniques.
His research has focused on non-Newtonian fluids in pressure transient analysis and on gas-oil ratio performance and modeling in conventional and unconventional reservoirs.