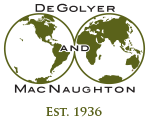 Worldwide Petroleum Consulting

C. Lynn Gentry
Lynn Gentry joined DeGolyer and MacNaughton in 2012. His primary focus is client communications, specifically proposal management and creation of marketing materials for business development activities.
He previously worked for 17 years as a marketing and communications executive for Vizient Inc., a healthcare supply chain services and performance improvement consulting firm. Prior to that, he worked for five years as a medical science writer for The University of Texas Southwestern Medical Center at Dallas.
Over the course of his professional career, Gentry has accumulated significant experience with: community relations, crisis communications, employee communications, executive communications, marketing strategy development, media relations, message development, public affairs, publications management, reputation management, social media communications, and special events management.
He earned a bachelor's degree in journalism (public relations) from Texas Christian University in 1986. He earned his master's degree in marketing management from the University of Dallas in 2002 and served as an adjunct professor at the University of Dallas from 2004 to 2006.