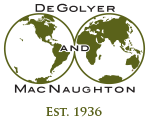 Worldwide Petroleum Consulting

Gaines Gibson
Gaines Gibson joined DeGolyer and MacNaughton in 2018. Prior to joining D&M, Gibson worked for Schlumberger Wireline as a field engineer and district manager.
Gibson earned a bachelor's degree in chemical engineering from the University of Alabama in 2013, graduating magna cum laude. He is a member of the Society of Petrophysicists and Well Log Analysts and the Society of Petroleum Engineers.
Geographical Experience
Algeria
Angola
Congo
Egypt
Gabon
Germany
Ghana
Iraq
Libya
Mauritania
Nigeria
Norway
Romania
Saudi Arabia
Senegal
Turkey
United Kingdom
United States
Topical areas of Expertise
Petrophysical analysis of wireline logs, core data, and test results
Open-hole and cased-hole logging tool theory and operation
Log quality control
Greenhouse gas (GHG) evaluation and reporting
Major Projects
Gibson has performed petrophysical interpretations of clastic and carbonate reservoirs. His experience encompasses both conventional and complex lithologies, including thin-bedded, low-porosity, and fractured reservoirs. Gibson has worked extensively on the determination of net pay in challenging data environments and constructed outputs to support geological modeling. He has performed evaluations and field studies in onshore and offshore environments, and has the ability to work with a diverse input of logging products using multiple software tools.
Gibson is a Global Reporting Initiative (GRI) certified sustainability professional. He has experience with various greenhouse gas protocols and standards, including ISO 14064. Some of his recent projects have included assisting clients in creating internal greenhouse gas reporting guidelines.
As a wireline field engineer with Schlumberger starting in 2013, Gibson supervised over 500 open-hole and cased-hole operations in a variety of lithologies. He led complex wireline operations for both large and small operators, including those that required specialized logging. In addition, he performed quick-look and log analysis in the field. Gibson received extensive training in tool measurement theory, tool calibration, tool operation, and troubleshooting to ensure log quality control. He was also extensively involved in field-testing new technologies, including the next-generation pulsed neutron tool used for cased-hole formation evaluation and fluid determination. In 2017, he became a District Manager of the South Texas District, where he supervised a diverse range of depositional and operational environments.