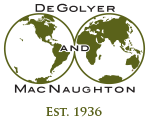 Worldwide Petroleum Consulting

Denis A. Gilev
Denis A. Gilev joined DeGolyer and MacNaughton in 2018 as a Deputy Director of DeGolyer and MacNaughton's Saint Petersburg branch office, where he leads a team of engineers and geoscientists working on Russian projects in the Reservoir Studies Division. He trained and worked in various technical disciplines, including geology, reservoir engineering, and commercial roles for several of Russia's largest oil and gas production companies such as Gazprom Neft, Lukoil, TNK-BP.
Gilev graduated from the Gubkin State University of Oil and Gas as a petroleum engineer in 1999. In 2003, he received a master's degree in petroleum engineering from Heriot-Watt University. Gilev is a member of the Society of Petroleum Engineers. His native language is Russian and he is fluent in English.
Geographical Experience
Iraq
Russia
United Arab Emirates

Topical Areas of Expertise
Reservoir engineering
Field development planning
Major upstream project planning
Petroleum economics
Business development and strategy
Merger and acquisition evaluation

Major Projects
Gilev successfully led and contributed to the large brownfield reservoir management studies performed by D&M for Gazprom Neft from 2017 to 2021, and he managed a number of other studies for the Gazprom Group.
At Gazprom Neft Exploration Directorate, he was responsible for managing the planning and execution of exploration projects. He also worked on one of the Middle East exploration projects as a perspective planning manager.
At Lukoil Middle East, Gilev was a project control manager for the waterflooding project.
He worked at Sakhalin 2 and in Samara-Nafta as a business planner and strategy manager.
In early years of his career, Gilev worked in different upstream companies as a field geologist, production technologist, and reservoir engineering department manager.