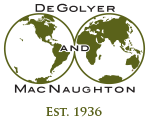 Worldwide Petroleum Consulting

Connor J. Holasek
Connor J. Holasek joined DeGolyer and MacNaughton in 2020 as a Data Scientist to assist with the firm's Big Data and Advanced Analytics efforts. Holasek's primary role is to capture and analyze large volumes of data, create automated solutions, and develop analytical tools to enhance engineering or geological analysis. He is extremely proficient in developing solutions with the use of various software or programming languages, including R, Python, SQL, and Spotfire.
Holasek has created solutions and aided ongoing efforts alongside D&M's engineers and geologists. Such solutions include analytics/visualizations for North American well spacing with spacing calculations for every horizontal well in North America, automated production forecasting, public production data capture and storage, artificial-intelligence-based report quality assurance, and type-log generation for reservoir model development.
Prior to joining D&M, Holasek worked as an engineering intern for El Toro Resources while attending graduate school at the University of Oklahoma. He performed production diagnostics, analyzed trends in completion data, and performed geospatial analytics for El Toro's Eagleford Shale and Austin Chalk developments in southern Texas. In graduate school, Holasek worked with Marathon Oil Company to develop advanced analytics solutions to engineering problems. His thesis work involved the use of hidden Markov models and change point detection algorithms to identify subsurface lithologic changes using real-time surface drilling data in a complex geological setting, the Meramec Formation in Oklahoma.
Holasek graduated from the University of Oklahoma in 2018 with a bachelor's degree in petroleum engineering and completed a master's degree in petroleum engineering from the University of Oklahoma in 2019. Holasek is a member of the Society of Petroleum Engineers (SPE) and is active in the Dallas SPE Young Professionals chapter.