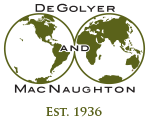 Worldwide Petroleum Consulting

Dr. John W. Hornbrook
Dr. John W. Hornbrook is an Executive Vice President and senior staff engineer for DeGolyer and MacNaughton. Prior to joining D&M in 2002, he worked with one of the world's largest petroleum corporations and then with a consulting firm on a variety of domestic and international projects.
Hornbrook received a bachelor's degree in petroleum engineering from the University of Tulsa in 1986. From Stanford University he earned a master's degree in 1991 and a doctorate in 1994 in petroleum engineering. He has received numerous educational honors and contributed technical articles to industry journals and educational publications. Among his professional affiliations, Hornbrook is a member of the Society of Petroleum Engineers, serves as technical editor for the "SPE Reservoir Evaluation & Engineering" magazine, is a member of the Society of Petroleum Evaluation Engineers, is a member of the Association of International Petroleum Negotiators, and is a registered professional engineer in the State of Texas.
Geographical Experience
Abu Dhabi
Algeria
Australia
Bahrain
Brazil
Colombia
Ghana
Gulf of Mexico
Indonesia
Kuwait
Libya
Mexico
Nigeria
North Sea
Oman
Peru
Russia
Saudi Arabia
Thailand
United States
Topical Areas of Expertise
Coalbed methane reservoirs
Probabilistic analysis
Enhanced oil recovery methodologies
Property evaluation
Field development studies
Well-test design
Heavy oil
Major Projects
For D&M, he has worked many projects in Western Siberia, ranging from reservoir modeling to improve field performance to full-field geologic and simulation modeling for field development planning. In Eastern Siberia, he has developed full-field geologic and simulation models in complex reservoirs to evaluate field development planning options and assess subsurface uncertainty. He has also made use of integrated simulation modeling to assist with portfolio management of multiple fields across Russia and has applied geologic and simulation modeling techniques to assess reserves in complex reservoirs.
He has simulated thermal recovery processes in a heavy-oil field in Oman and has assisted with reserves assessments in that country.
He manages projects around the world, including field development projects in Russia and Peru, large-scale integrated studies in Kuwait, and simulation-based studies in the Gulf of Mexico.
Prior to joining D&M, Hornbrook gained experience in development modeling in the Gulf of Mexico, the continental U.S., and the Gulf of Thailand, and he performed modeling in support of an arbitration involving a multi-reservoir field in the North Sea. With BP Exploration from 1994 to 1997, Hornbrook focused on development of the Prudhoe Bay reservoir, performing analyses for the Miscible Gas Project to determine optimal development and operational strategies.