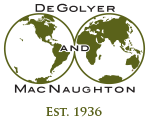 Worldwide Petroleum Consulting

Denis Ialalov
Denis Ialalov joined DeGolyer and MacNaughton's Astana office in 2017 as a petroleum geologist. Before that, he worked as a team leader at different oil production companies in Russia and Vietnam. He has work experience in the different oil and gas basins of the Buzuluk depression, Eastern Siberia, Kama-Kinel depression system, Kyulong Basin (Vietam), South-Turgay Basin, and Mangyshlak.
Ialalov graduated from Kazan State University in 2004 with a master's degree in geology and geochemistry of oil and gas.
Geographical Experience
Kazakhstan
Russia
Vietnam

Topical Areas of Expertise
Geological studies
Well-log interpretation
Reservoir 3–D modeling
Stratigraphic and structural analysis
Reservoir correlation
Reservoir characterization
Seismic and petrophysical analysis
Reserves evaluation
Volumetric calculations

Major Projects
Ialalov provides integrated geological studies of oil fields (core, lithofacies, seismic, reservoir characterization, etc.).