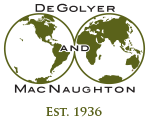 Worldwide Petroleum Consulting

Victor Ivanov
Victor Ivanov joined DeGolyer and MacNaughton in 2017, specializing in reservoir modeling. Prior to joining D&M, he worked at ADNOC, Shell, OMV, and Service Petrophysical Co.
Ivanov earned his bachelor's degree in petroleum geology from Lomonosov Moscow State University in 2006. He is a member of the Society of Petroleum Engineers and the American Association of Petroleum Geologists, and has published papers regarding fractured reservoir characterization.
Geographical Experience
Kazakhstan
Middle East
Romania
Russia
Topical Areas of Expertise
Geocellular modeling
Volumetric estimation
Seismic interpretation
Environment of deposition mapping
Open-hole log data interpretation
Core description
Geosteering

Major Projects
Ivanov works as a senior geoscientist on integrated field development projects, performing subsurface data analysis and providing technical training. For several of the largest fields in Kazakhstan, Victor developed a rock-typing algorithm that has allowed for the automatic interpretation of electrofacies using old vintage logs in more than 11,000 wells. The results of his work formed the basis for calculating STOIIP and reservoir simulation models.
As a Senior Geomodeller with ADNOC in Abu Dhabi, United Arab Emirates, he was responsible for seismic data interpretation and fractured reservoir characterization. The results of his work were used to optimize well placement strategy in fractured carbonate reservoirs. In addition, Ivanov worked as a development geologist with Shell and OMV, performing reservoir modeling and real time geosteering.
Ivanov began his career in 2005 as a petrophysicist at Service Petrophysical Co., performing core description, core analysis, and open-hole log data interpretation in exploration and appraisal wells. The results of his work were the construction of environment of deposition maps for green fields in East Siberia, West Siberia, and the Timano-Pechora regions.
Victor has comprehensive experience in sedimentology of clastic and carbonate reservoirs in Eastern Europe, Kazakhstan, Russia, and the Middle East. He has built multiple reservoir models that have been used for dynamic simulation and reserves booking.