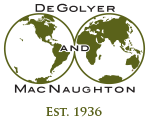 Worldwide Petroleum Consulting

Maria Ivanova
Maria A. Ivanova began her employment at DeGolyer and MacNaughton's Moscow office in 2008 as a geologist specializing in geology for field development and reservoir study applications. Before joining D&M, she was a specialist in seismic interpretation, seismic facies modeling, and 3–D modeling at Paradigm Geophysical.
Ivanova graduated from Lomonosov University, Moscow, with a degree in fossil fuel geology and geochemistry in 2007. She is a member of the American Association of Petroleum Geologists (AAPG) and the Society of Petroleum Engineers (SPE), and is an AAPG-certified petroleum geologist. Ivanova is fluent in Russian and English.
Geographical Experience
Kazakhstan
Russia
Ukraine
Topical Areas of Expertise
Stratigraphic and structural analysis
Seismic and petrophysical analysis
Reserves evaluation and classification
Geological studies
Reservoir characterization
Volumetric calculations
Reserves estimation
Major Projects
Ivanova has conducted reserves estimations on more than 150 fields situated in the Russian Federation, Kazakhstan, and the Ukraine. She coordinates geological studies of the hydrocarbon reserves evaluation project for one of the leading national Russian oil and gas companies. Her responsibilities also include internal coordination of the multidisciplinary team in addition to her technical work, and oversight of the preparation of reserves reports under both SEC and PRMS guidelines.
Ivanova is an instructor for the firm's SEC and PRMS reserves seminars, specializing in reserves definitions and geologic and volumetric practices.