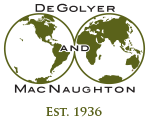 Worldwide Petroleum Consulting

Arina D. Kalinicheva
Arina D. Kalinicheva joined DeGolyer and MacNaughton's Moscow office in 2021 as a project engineer in the Reservoir Studies Division. Before joining D&M, she worked for Sakhalin Energy Investment Company Ltd. as a Senior Reservoir Engineer for 10 years.
Kalinicheva graduated from Gubkin Russian State University of Oil and Gas in 2009 with a degree in applied mathematics, and earned her master's degree in petroleum engineering at the Heriot-Watt University in 2011.
Geographical Experience
Topical Areas of Expertise
Reservoir simulation modeling
Experimental design
Field development optimization
Reservoir performance analysis
Waterflood analysis
Reservoir performance forecasting
Reserves estimation and booking
WTA/PTA
Decline-curve analysis

Major Projects
Kalinicheva has prepared dynamic models for various oil and gas fields using an experimental design approach. She is currently working on simulation model construction and field development analysis for a complex field located in West Siberia.