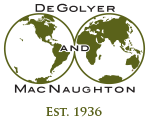 Worldwide Petroleum Consulting

Ilya V. Kallin
Ilya V. Kallin joined DeGolyer and MacNaughton's Moscow office in 2021 as a reservoir engineer specializing in reserves estimation and petroleum property evaluations. Before working for D&M, Kallin was the chief specialist of the difficult-to-recover oil projects at Rosneft's SamaraNIPIneft scientific institute, specializing in reservoir simulation and material-balance analysis.
Kallin received a degree in petroleum engineering from Samara State Technical University in 2014, and in 2016 he graduated from Heriot-Watt University with a master's degree in petroleum engineering. He is fluent in Russian and English.
Geographical Experience
Topical Areas of Expertise
Field performance analysis
Reserves estimation
Production forecasting
Waterflood analysis
Reservoir modeling
Gas deliverability modeling
Material-balance analysis
Major Projects
Since he arrived at D&M, Kallin has conducted reserves evaluations for clients in the Russian Federation and Uzbekistan using the guidelines of the United States Securities and Exchange Commission (SEC) and the Petroleum Resources Management System (PRMS).