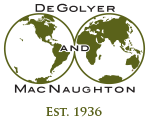 Worldwide Petroleum Consulting

Tagir R. Khabibullin
Tagir R. Khabibullin joined DeGolyer and MacNaughton's Astana office in 2016 as a reservoir engineer in the Reservoir Studies Division, specializing in reservoir development and production analysis. Before joining D&M, he was a senior reservoir engineer for Eni, Rosneft, and Schlumberger.
Khabibullin graduated from Ufa State Petroleum Technological University as a petroleum engineer in 2008. He earned his master's degree in petroleum engineering from Texas A&M University in 2010. Khabibullin is an active member of the Society of Petroleum Engineers. He is fluent in Russian and English.
Geographical Experience
Africa
Kazakhstan
North Sea
Russia
Topical Areas of Expertise
Field development studies
Well performance analysis
Production and decline-curve analysis
Waterflood analysis and optimization
Pressure transient analysis
Major Projects
Khabibullin has conducted several field performance studies for major oil and gas companies in Russia and Kazakhstan. He routinely performs field production enhancement evaluation, well performance analyses and forecasting studies, and completion performance evaluations.