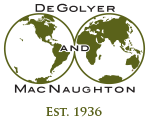 Worldwide Petroleum Consulting

Anton Kozlov
Anton Kozlov joined DeGolyer and MacNaughton's Moscow office in 2020 as a petrophysicist specializing in reservoir studies based on log, core, well-test, and geologic data. Prior to joining D&M, he was a senior petrophysicist for Equinor.
Kozlov graduated from Novosibirsk State University with a bachelor's degree in petroleum geology in 2011. He graduated with distinction from Heriot-Watt University with a master's degree in reservoir evaluation and management in 2012. He has co-authored several SPE papers.
Geographical Experience
Brazil
Norway
Russia
Uzbekistan

Topical Areas of Expertise
Petrophysical interpretation of clastic and carbonate reservoirs
Russian logging tools
Advanced wireline logging tools
LWD tools
Log quality control
Formation evaluation
Integration of core, well-log, mud-log, well-test, production, and geological data
Routine and special core analysis

Major Projects
Kozlov has many years of experience in advanced petrophysical data planning, acquisition, interpretation, and integration as an operations petrophysicist. He has worked with nuclear magnetic resonance tools, elemental spectroscopy, acoustic and resistivity imaging, dielectric, three-dimensional resistivity, probe and dual-packer formation tester data, field development projects for complex fresh water reservoirs, thin-bedded reservoirs, low-resistivity pays in West Siberia (Vankor cluster, Krasnoleninskoye, Achimovskoye, and other fields), as well as exploration activities in a complex mineralogy of vuggy and fractured Cambrian-Precambrian carbonates with salt-plugging in East Siberia.
Kozlov has experience using deterministic and probabilistic (multi-mineral model) approaches, and petrophysical uncertainty analysis methods such as Monte-Carlo. He specializes in working with multi-disciplinary project teams to provide petrophysical evaluations integrated with geological and engineering results.