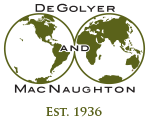 Worldwide Petroleum Consulting

Jacob A. Kremers
Jacob Kremers joined DeGolyer and MacNaughton in 2021 as an engineer in the North America Division. Prior to joining D&M, Kremers interned at WPX Energy and worked at Cimarex for three years as a reservoir engineer.
Kremers graduated with a bachelor's degree from Harvard University in 2015 with a degree in earth and planetary science, and earned his master's degree in petroleum engineering in 2018 from the University of Tulsa. He is a member of the Society of Petroleum Engineers.
Geographical Experience
Topical Areas of Expertise
Unconventional reservoirs
Rate-transient analysis
Reservoir simulation
Production forecasting
Reserves estimation
Analytical and numerical modeling
Development planning

Major Projects
Kremers specializes in evaluating reserves and well performance analysis in unconventional oil and gas plays. Since joining D&M, Kremers has focused on reserves projects in North America and on various interdisciplinary projects involving full-field development internationally.