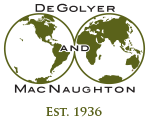 Worldwide Petroleum Consulting

Olga V. Lata
Olga V. Lata
Project Geologist
Olga V. Lata joined DeGolyer and MacNaughton's Moscow office in 2008 as a geologist specializing in field development and reservoir study applications. Before joining D&M, she was a leading geologist in the Petroresurs joint venture with Lundin Petroleum Company in Moscow, where she was responsible for exploration work on the Caspian shelf and geological evaluation of new assets for the company.
Lata received a degree in mining engineering and petroleum geology from Polytechnic University in Tomsk, Russia in 1990. In addition to her native Russian, Lata is fluent in English.
Geographical Experience
Azerbaijan
Kazakhstan
Russia
Ukraine
Uzbekistan

Topical Areas of Expertise
Stratigraphic and structural analysis
Seismic and petrophysical analysis
Reserves evaluation and classification
Geological studies
Reservoir characterization
Volumetric calculations
Reserves estimation

Major Projects
Her experience in Russia includes projects in East Siberia, the Volga-Ural Basin, the Caspian Basin, Sakhalin, the Timan-Pechora Basin, and the West Siberian Basin. She coordinates the geologic portion of reserves evaluation for several oil and gas companies in Russia, Kazakhstan, and Azerbaijan.