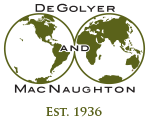 Worldwide Petroleum Consulting

Steven D. McIninch
Steven D. McIninch joined DeGolyer and MacNaughton in 1993 after working as a seismic interpreter and processor at Shell Oil Company for 13 years.
McIninch graduated with a bachelor's degree in geophysics from the University of Oklahoma in 1978. He was elected a Vice President at D&M in 1995.
Geographical Experience
Algeria
Angola
Argentina
Australia
Brazil
China
Colombia
Egypt
Equatorial Guinea
Ghana
Gulf of Mexico
Guyana
India
Indonesia
Malaysia
Mexico
Middle East
Mozambique
Myanmar
Nigeria
North Sea
Oman
Peru
Philippines
Russia
Saudi Arabia
Suriname
Tanzania
Thailand
United Kingdom
Topical Areas of Expertise
2–D and 3–D seismic interpretation
Stratigraphic interpretation
Geologic modeling
AVO analysis
Reserves classification and estimation
Depth conversion and velocity modeling
Project coordination and supervision
Interpretation of seismic inversion data
Seismic processing evaluation
Equity studies
Maturation studies
Prospect evaluation and identification of areas of upside exploration opportunities
Regional mapping
Petrel mapping
Major Projects
Seismic interpretation for reserves study of the Tanguuh field in Indonesia.
Seismic interpretation and supervision of interpretation of several large fields in Algeria.
Seismic interpretation of numerous deepwater fields on both the east and west coasts of Africa.
Seismic interpretation of numerous pre-salt fields in deepwater Brazil.
Seismic interpretation of several deepwater fields in the KG Basin in India.
Geophysical interpretation for dozens of reserves studies throughout the world.
Coordinated geologic and geophysical effort that evaluated over 200 prospects and generated over 100 new leads for a national oil ministry in preparation for a major lease sale.
Provided geophysical consultation that helped resolve a longstanding dispute between the operator of a major field in China and the gas purchaser.
Developed geologic and geophysical techniques for implementation of a maturation study for a major offshore turbidite field in East Africa.
Evaluation of exploration areas for bid rounds in Mexico, including regional seismic interpretation, prospect mapping, risk analysis, and identification of exploration opportunities and upside.