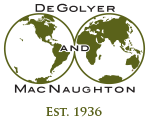 Worldwide Petroleum Consulting

Mauro C. Menconi
Mauro C. Menconi joined DeGolyer and MacNaughton in 2022 as a petroleum engineer. Prior to joining D&M, Mauro worked for 12 years for Chevron in Argentina and the United States.
Menconi earned a post-graduate degree in petroleum engineering from the Buenos Aires Institute of Technology and a bachelor's degree in industrial engineering from National Technological University, Argentina. He is a member of the Society of Petroleum Engineers.
Geographical Experience
Topical Areas of Expertise
Reserves and resources evaluation and estimation
Oil and gas reservoir engineering
Production engineering
Reservoir simulation
Unconventional resources
Volumetric calculations
Reservoir characterization
Waterflood design, operation, and optimization

Major Projects
Since his arrival at D&M, Menconi has conducted reserves evaluations for clients in Latin America in accordance with the United States Securities and Exchange Commission (SEC) and the Petroleum Resources Management System (PRMS) for conventional and unconventional reservoirs. He has estimated oil and gas reserves using standard engineering methods such as decline-curve analysis, volumetric calculations, and production-performance analysis.
Prior to joining D&M, Menconi acted as Lead Reservoir Engineer for Chevron's Mid-Continent Business Unit. He was responsible for reservoir engineering execution, completion design evaluation, proposal and improvement, drawdown management, and flowback strategy in various areas within the Permian Basin. He conducted internal peer reviews, rate transient analysis, and fluid material-balance analysis. He supported the reserves team on reserves submissions, forecasting activities, and well type-curve evaluation. He also provided technical support for development scenarios and economic analysis. He contributed with his technical background to budget approvals, drilling and completion campaigns, facilities designs, and operation expenditures.
Earlier roles with Chevon included business planning, functioning as the reserves coordinator in Argentina, acting as waterflooding coordinator for an asset with 700 wells, and production engineering activities.
Menconi started his career as a production engineer for YPF in Argentina, where he oversaw well intervention operations, artificial-lift designs, workover proposals, business planning activities, and production optimization for producers and injectors.