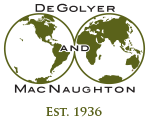 Worldwide Petroleum Consulting

Ivan Motuzov
Ivan S. Motuzov joined DeGolyer and MacNaughton's Moscow office in 2013, specializing in petroleum geology, oil and gas in-place evaluation, and reserves categorization following PRMS/SEC standards. Before joining D&M, Motuzov worked as geologist, geophysicist, engineer, and team leader at different service and oil production companies in Russia and Kazakhstan.
Motuzov graduated from Peoples' Friendship University of Russia in 2002 with a bachelor's degree in geology and exploration, and in 2004 earned his master's degree in oil and gas field exploration. In 2004, Motuzov graduated from World Economy and Business Institute at Peoples' Friendship University with a master's degree in business administration. In 2006, Motuzov graduated from Heriot-Watt University of Scotland with a master's degree in reservoir evaluation and management. Motuzov can speak and write in Spanish and English.
Geographical Experience
Azerbaijan
Kazakhstan
Russia
Ukraine
Uzbekistan
Topical Areas of Expertise
Geological studies
Well-log interpretation
Reservoir 3–D modeling
Stratigraphic and structural analysis
Reservoir correlation
Reservoir characterization
Seismic and petrophysical analysis
Reserves evaluation and classification
Volumetric calculations
Major Projects
Motuzov has conducted reserves estimations on numerous fields situated in the Russian Federation, Kazakhstan, Ukraine, Azerbaijan, and Uzbekistan. He coordinates the geologic reserves evaluations under both SEC and PRMS standards for several Russian oil and gas companies.