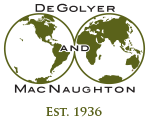 Worldwide Petroleum Consulting

Anastasia V. Nikolaeva
Anastasia V. Nikolaeva is a Senior Vice President and Deputy Director of the Moscow Branch, Accounting, Human Resources, and Finance. As such, she oversees the day-to-day financial, administrative, and human resources activities within the Russian branches and monitors those activities in D&M's offices in Kazakhstan and Azerbaijan. She is also in charge of D&M's tax and financial compliance in Russia. She joined D&M in 2005.
Prior to joining D&M, Nikolaeva worked for Toshiba Singapore CIS, a Russian subdivision of the Japanese corporation, marketing televisions, computers, and copiers. As a senior accountant, she was responsible for a wide range of financial and administrative operations and internal and external reporting.
Nikolaeva graduated with honors from the Moscow State University in 1999 with a master's degree in geography, and in 2005 from the Sheremet Professional Accountant & Auditor Center certified as a professional accountant. She is a member of the Institute of Professional Accountants of Russia. She is fluent in English and knowledgeable in Spanish.