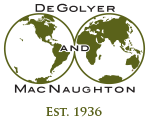 Worldwide Petroleum Consulting

Denis Orlov
Denis Orlov joined DeGolyer and MacNaughton's Astana office in 2015 as petroleum geologist. He has worked in the oil and gas industry for 18 years at a variety of scientific centers and operator companies. He has worked on projects located in the Volga-Ural, Timan-Pechora, Eastern Siberia, Pre-Caspian, South Mangyshlak, and Dnieper-Donets sedimentary basins.
Orlov graduated from the Royal Holloway University of London with a master's degree in petroleum geosciences in 2008, and received a petroleum geologist diploma from Saratov State University in 2001.
Geographical Experience
Kazakhstan
Russia
Ukraine
Topical Areas of Expertise
Geological studies
Stratigraphic and structural analysis
Seismic stratigraphy analysis
Reservoir characterization
Estimation of OOIP
Reserves estimation
Oil production optimization
Integrated petroleum system analysis
Major Projects
Since 2017, Orlov has coordinated D&M's team in Astana as a technical team leader. The team's expertise covers most aspects of field operation, from subsurface to gathering and treatment systems (reservoir engineers, petrophysicists, geologists, surface facilities, hydraulic fracture, and artificial oil lift engineers). The main task of this project is increasing efficiency for clients in terms of growing oil production.