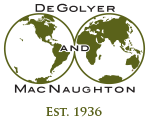 Worldwide Petroleum Consulting

Thomas C. Pence
Thomas C. Pence joined DeGolyer and MacNaughton in 1995, after 13 years at Sun E&P Company and Oryx Energy Company. He is Senior Vice President and Manager of the Asia Pacific / Latin America Division. Pence is an expert on the estimation of reserves and resources based on the requirements of the United States Securities and Exchange Commission (SEC) and the Petroleum Resources Management System (PRMS). He has led evaluations and developed and conducted seminars and industry courses on the estimation, classification, and categorization of reserves and resources under the SEC and PRMS for clients worldwide.
Pence graduated from Texas A&M University in 1982 with a bachelor's degree in petroleum engineering. He has co-authored two papers that detail the design, implementation, and resulting performance of a stimulation program. He is a registered professional engineer in the State of Texas and a member of the Society of Petroleum Engineers. 
Geographical Experience
Australia
India
Indonesia
Pakistan
South America
West Africa
Topical Areas of Expertise
Gas field development
Gas-deliverability modeling
Horizontal drilling
Performance-based relationships
Reservoir simulation
Tertiary recovery methodologies
Major Projects
Early in his career, Pence evaluated the technical and economic feasibility of primary field development projects, secondary and tertiary recovery projects, and production optimization through recompletion and stimulation operations in the Rocky Mountain region of the United States. He also worked with cyclic and continuous steam injection projects in the Midway Sunset field in California. Pence's experience includes reservoir simulation studies of the application of horizontal wellbores to water-coning problems, low-permeability gas reservoirs, and reserves-recovery acceleration.
Since joining D&M, Pence has evaluated major oil and gas fields in emerging provinces worldwide. Pence has accumulated significant experience in evaluating deepwater depositional systems and deepwater development projects. His experience working pre-appraisal and pre-development projects has aided clients in quantifying uncertainties and helped to guide appraisal and development programs. He has specialized in evaluating fully developed oil and gas fields under primary and secondary recovery.
Pence has served as reservoir engineer and project manager for the certification of gas fields in support of LNG developments, lender due diligence for project finance, gas purchase and supply agreements, and acquisition projects as well as the annual reserves and resources evaluations required for regulatory filings.