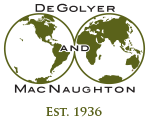 Worldwide Petroleum Consulting

Alexey A. Popov
Alexey A. Popov joined DeGolyer and MacNaughton's Moscow office in 2018 as a petrophysicist specializing in reservoir studies based on logs, core data, well tests, and geologic data. Before joining D&M, Popov was a petrophysicist for Schlumberger.
Popov graduated from Gubkin State University of Oil and Gas, Moscow, with a degree in Petrophysics and Well Logging in 2007. Popov is a native Russian speaker and fluent in English.
Geographical Experience
Azerbaijan
Kazakhstan
Russia
Uzbekistan

Topical Areas of Expertise
Petrophysical formation evaluation of clastic and carbonate reservoirs
Petrophysical formation evaluation of unconventional shale reservoirs
Russian logging tools
Advanced wireline logging tools
Logging while drilling tools
Log quality control
Complete petrophysical integration of core, well-log, mudlog, well-test, production, and geological data
Routine and special core analysis
Rock and fluid physics
Major Projects
As a petrophysicist, Popov has estimated reserves for various reservoirs in Russia, Kazakhstan, and Uzbekistan. He has over 15 years of experience interpreting wells of the Caspian Region, Timan-Pechora Basin, and fields in western and eastern Siberia.
Petrophysically challenging field development projects included thin-bedded reservoirs and low-resistivity pays of the Krasnoleninskoye, Fedorovskoye, and other fields of western Siberia, as well as the complex mineralogy of vugular and fractured Cambrian-Pre-Cambrian carbonates with salt-plugging in eastern Siberia. Advanced tools he has worked with to unravel these challenges include nuclear magnetic resonance, elemental spectroscopy, acoustic and resistivity imaging, dielectric, azimuthal resistivity, and formation tester using probes and/or dual-packers. Unconventional reservoirs interpreted by Popov include the Bazhenov Formation in western Siberia and the Domanik Formation in the Volga-Ural Province.
He specializes in formation evaluation based on the integration of logs, core data, and test results. He is skilled in both probabilistic (multi-mineral modeling) and deterministic approaches to petrophysics. He has a deep understanding of well-log conditioning, petrophysical analysis, and hydrocarbon volume computation as well as interpretation of elastic logs and modeling rock physical properties.
Popov has experience working as a pivotal member of a multidisciplinary team where he understands the needs of the client, geologists, reservoir engineers, and geophysicists.