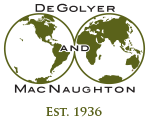 Worldwide Petroleum Consulting

Alexey A. Popov
Alexey A. Popov joined DeGolyer and MacNaughton's Moscow office in 2018 as a petrophysicist specializing in reservoir studies based on logs, core data, well tests, and geologic data. Before joining D&M, Popov was a petrophysicist for Schlumberger.
Popov graduated from Gubkin State University of Oil and Gas, Moscow, with a degree in Petrophysics and Well Logging in 2007. Popov is fluent in Russian and English.
Geographical Experience
 Topical Areas of Expertise
Interpretation of clastic and carbonate reservoirs
Russian logging tools
Log quality control
Formation evaluation
Integration of core analyses with well-test and geologic data
Core analysis
Major Projects
Popov has conducted petrophysical interpretations for reserves estimation in various reservoirs in Russia and Kazakhstan. He specializes in formation evaluation based on interpretation of logs, core data, and test results. He is skilled in both probabilistic (multi-mineral modeling) and deterministic petrophysical analysis.