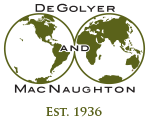 Worldwide Petroleum Consulting

Mikhail Rogozinskiy
Mikhail Rogozinskiy joined DeGolyer and MacNaughton in 2021 as a reservoir engineer in the Reservoir Study Division. Prior to joining D&M, he was the head of the Subsurface Development Department at Vostok Development Ltd and worked as a reservoir engineer for ZN Vostok Ltd, All-Russian Oil and Gas Research Institute JSC, and SIAM Engineering Ltd.
Rogozinskiy received a master's degree in mathematics from National Research Tomsk State University in 2010, a doctorate in math in 2013, and in 2019 he passed professional retraining in the "Development and Operation of Oil and Gas Fields" program at the Russian State Oil and Gas University. Rogozinskiy speaks English, Russian, and Persian.
Geographical Experience
Topical Areas of Expertise
Reservoir modeling
Field development optimization
Reservoir production forecasting
Special core analysis
PVT studies
Major Projects
Rogozinskiy has built, history-matched, and forecast simulation models for several fields located in the West Siberian, Volgo-Ural, and Timano-Pechora Basins. He is experienced in waterflooding optimization using streamlines and in development strategy optimization within a multi-scenario approach.