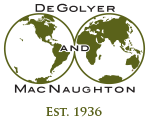 Worldwide Petroleum Consulting

Vladislav S. Sedov
Vladislav S. Sedov joined DeGolyer and MacNaughton's Moscow office as a geologist in 2021, specializing in petroleum studies and reserves estimation. Before joining D&M, he was a geologist for Rosgeo, responsible for 3–D and 2–D modeling, reserves estimation, and identifying and analyzing new exploration prospects. He has work experience in various oil and gas basins of the Volga-Ural, Timano-Pechora, Western Siberia, and North Caucasus.
Sedov graduated cum laude from Gubkin State University of Oil and Gas in 2017 with a master's degree in petroleum geology and geomodeling. He is a member of the European Association of Geoscientists and Engineers.
Geographical Experience
Topical Areas of Expertise
Stratigraphic and structural analysis
Seismic and petrophysical analysis
Reserves estimation and classification
Geological studies
Reservoir characterization
Volumetric calculations

Major Projects
Sedov has conducted reserves estimations on fields in Russia and Uzbekistan. He has participated in multi-disciplinary teams for the evaluation of reserves in accordance with the SEC regulations and the PRMS.