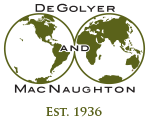 Worldwide Petroleum Consulting

Andrew G. Sivon
Andrew Sivon joined DeGolyer and MacNaughton in October 2017 as an engineer in the North American Division. Prior to joining D&M, Sivon worked as a wireline field engineer at Baker Hughes.
Sivon earned a bachelor's degree in mechanical engineering from Auburn University in 2013. In 2018, Sivon earned his master's degree in petroleum engineering from Texas A&M University. His research focused on the numerical simulation of unconventional reservoirs. Sivon is a registered professional engineer in the State of Texas and a member of the Society of Petroleum Engineers.
Geographical Experience
Argentina
Canada
China
New Zealand
Russia
Saudi Arabia
United States
Topical Areas of Expertise
Reserves and resources evaluations
Unconventional resources
Well performance analysis
Simulation modeling
Field development studies
Major Projects
Sivon's work focuses on well performance analysis and reserves evaluations in conventional and unconventional reservoirs. He has experience with SEC and SPE-PRMS guidelines and works extensively with PHDWin, ARIES, and Citrine to develop reserves estimates based on development plans, decline-curve analysis, well performance diagnostics, and economics. He has performed numerous reserves and resources evaluations for conventional reservoirs (Gulf Coast, California, Mid-Continent, and the Permian Basin) and unconventional reservoirs (Bakken, Duvernay, Eagle Ford, Haynesville, Woodford, and Wolfcamp) across North America.
Additionally, he routinely performs assessments of unconventional reservoirs, including analytical and numerical model-based well performance analysis, completion evaluation and optimization, and well spacing studies.