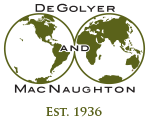 Worldwide Petroleum Consulting

Boris Sizanov
Boris Sizanov joined Degolyer and McNaughton's Moscow office in 2021 as a geologist. He previously worked in Russian oil and gas companies for 14 years, most recently at LLC RN-SakhaliNNIPimorneft, where he was the chief expert of the Reserves Management Department (geological exploration). He has extensive experience in the calculation of reserves, geological modeling, exploration planning, and field development monitoring. Sizanov was the chief project engineer in the creation of technologies for localization of reserves and extraction of liquids for the siliceous, fractured reservoirs of the Sakhalin Island.
Sizanov graduated in 2008 from Lomonosov University, Moscow, with a master's degree in geological and geophysical research of oil and gas fields. He speaks Russian and English.
Geographical Experience
Topical Areas of Expertise
Stratigraphic and structural analysis
Seismic and petrophysical analysis
Reserves evaluation and classification
Geological studies
Reservoir characterization
Volumetric calculations
Reserves estimation

Major Projects
Sizanov has completed geologic evaluations of oil and gas reserves in accordance with the PRMS and SEC for numerous fields located in Russia and the Commonwealth of Independent States.