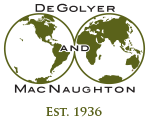 Worldwide Petroleum Consulting

Dmitry V. Vasilyev
Dmitry V. Vasilyev joined DeGolyer and MacNaughton in 2017 as a member of the Reservoir Studies Division in Kazakhstan. Before joining D&M, Vasilyev served as a Wireline Field Engineer, Senior Petrophysicist, and Technical Team Leader at Schlumberger Data and Consulting Services.
Vasilyev earned a master's degree at Novosibirsk State University in 2009. He is a member of the Society of Petroleum Engineers and has authored over 10 publications related to petrophysics, logging, and geoelectrical modeling. He is fluent in Russian and English.
Geographical Experience
Topical Areas of Expertise
Petrophysical analysis of clastics, carbonates, volcanics, and unconventionals
Integration of core and logs for formation evaluation
Joint analysis of petrophysical data with geology, production, and other data
Processing, interpretation, and integration of wireline advanced logging measurements
Interpretation of LWD data
Log quality control
Well site operations
Well integrity
Major Projects
As a member of the Reservoir Studies Division, Vasilyev closely collaborates with clients to provide technical support and petrophysical interpretations for operational needs, reserves work, and three-dimensional models. Vasilyev has a proven track record in both deterministic and probabilistic petrophysical analysis of standard and advanced logging methods in various depositional environments.