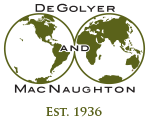 Worldwide Petroleum Consulting

Dalton Walker
Dalton Walker joined DeGolyer and MacNaughton in 2019 as a data scientist and reservoir engineer. As an early member of DeGolyer and MacNaughton's specialized "Big Data" and analytics team, his role is to utilize skills in engineering, data visualization, data engineering, database design, and statistics to drive DeGolyer and MacNaughton's wide-ranging internal business functions as well as specific client needs. He is proficient in building custom, easy-to-use tools in Spotfire, Tableau, PowerBI, and R Shiny. Additionally, through a wide range of programming languages, including R, SQL, HTML, IronPython, and jQuery/JavaScript, he creates inventive workflows to solve complex problems and gain insights from large datasets in an efficient manner.
Among other high-value projects, Walker has built custom solutions to automate internal reporting tasks, streamlined database updates, standardization, and QC to enhance data governance across asset teams, streamlined cross-validation of new oil and gas forecasts with historic assumptions, designed a workflow to create type curves based on Monte Carlo simulations and offset operator performance, built logic to estimate base declines and production maintenance costs in Kuwait and Russian fields, implemented exponential and hyperbolic decline autofits to save time and give base estimations, and leveraged historical production and pressure data in conjunction with petrophysical properties to approximate drainage radii of vertical wells to validate booked reserves and appraise future drilling plans. Walker has worked with a wide variety of subject matter experts in engineering, geology, and database design to learn, automate, and implement best practice workflows and analyses.
Prior to joining DeGolyer and MacNaughton, Walker worked as an engineering intern for Liberty Resources in Denver, Colorado and Golden Pass LNG in Houston, Texas.
Walker graduated with special distinction from the University of Oklahoma in 2018 with a Bachelor of Science in petroleum engineering. Walker also earned a Master of Science in business analytics from SMU in 2019. A member of the Society of Petroleum Engineers, Walker is active in the Dallas section's Young Professionals Program.