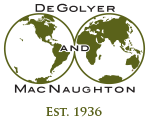 Worldwide Petroleum Consulting

Martin C. Wiewiorowski
Martin C. Wiewiorowski joined DeGolyer and MacNaughton in 1996 and is General Director of Operations for Russia and CIS, and is responsible for overseeing the activities of D&M's branch office in Moscow. Prior to joining D&M, he worked for Arco for 16 years.
Wiewiorowski speaks Polish, English, Russian, and Indonesian. He received a bachelor's degree in chemical engineering from Louisiana State University in 1980. A member of the Society of Petroleum Engineers, he was named a Vice President of DeGolyer and MacNaughton in 1998 and Senior Vice President in 2001.
Geographic Experience
Algeria
Azerbaijan
Indonesia
Kazakhstan
Russia
The Netherlands
Turkey
United Arab Emirates
United Kingdom
United States
Topical Areas of Expertise
SEC and foreign exchange filings
Reserves estimation
Acquisitions and mergers
Production sharing contracts
Economic analysis
Major Projects
He maintains executive oversight on major projects for numerous clients in Russia and the CIS.
He oversees more than 50 office personnel in Moscow, working to establish relationships with new clients and manage existing projects.
Wiewiorowski also evaluated the Tengiz pipeline project, analyzed potential acquisitions in Azerbaijan, and drafted a redevelopment plan for the Rhoude el Baquel field in Algeria.
As General Director for DeGolyer and MacNaughton in Moscow, Wiewiorowski conducts business overseeing firm's activity in Russia and CIS. Under his leadership the Russia Unit has grown from humble beginnings to significant contributor to the firm's ongoing success.