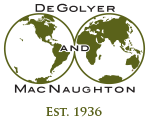 Worldwide Petroleum Consulting

Gennady S. Yakubovskiy
Gennady S. Yakubovskiy is a Deputy General Director of the Moscow branch office responsible for strategy and business development. As such, he oversees the establishment of relations with new clients and financial institutions and improvement of existing contracts and relations. He joined DeGolyer and MacNaughton in 2018.
Yakubovskiy has most recently performed as a team leader for the arrangement of consulting services to support the capitalization of several Russian petroleum companies. He is managing the bid preparation process and coordination of tender process. He has made presentations to lending institutions and government representatives on potential mergers and acquisitions and raising debt capital.
Prior to joining D&M, he worked for JSC Zarubezhneft and Gazprom Group for over 10 years, where he gained professional skills in oil and gas project management, the organization of mergers and acquisitions, and the elaboration of long-term strategy plans. He was also responsible for investment relations, raising debt capital, and sustainable development.
Yakubovskiy earned his master's degree with honors and Ph.D. in international economics and business administration from Finance University under the Government of Russian Federation. From 2006 to 2007, Yakubovskiy studied at Eastern Washington University, where he was on the Dean's honor roll for academic excellence in international business. Yakubovskiy is fluent in Russian, Spanish, and English.