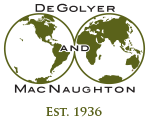 Worldwide Petroleum Consulting

Dr. Sergey Y. Zhuchkov
Sergey Y. Zhuchkov joined DeGolyer and MacNaughton's Moscow office in 2018 as a reservoir engineer in the Reservoir Studies Division. Prior to joining D&M, he worked for several oil and gas producing companies in Russia performing hydrodynamic modeling and field development planning.
Zhuchkov graduated from Gubkin Russian State University of Oil and Gas, Mocsow with a degree in applied mathematics in 2009, and in 2013 received his Ph.D. in mathematical modeling for reservoir engineering.
Geographical Experience
Topical Areas of Expertise
Reservoir modeling
Field development optimization
Reservoir performance analysis
Waterflood analysis
EOR modeling
Reservoir performance forecasting
Major Projects
Zhuchkov has performed development system optimization for several fields in West Siberia. He is currently involved in waterflood optimization studies, finding opportunities to upgrade oil field recovery factors.